Thanks to Ten K Solar our Chameleon house looks extremely spiffy! They helped to hook us up with the tenK RAIS PV system that is their trade mark. It's a system that combines PV modules, reflectors and the racking all put together. When this was mounted to our flat roof a beautiful wave like pattern appeared. This system provides more kWh per square foot because of its high density energy production. What makes this system truly unique is the way if any part of this module is disrupted, say from shade for example, the rest of the system can still act normally. You only lose a few percentage points of output. To get technical the actual cool aspect of their solar module is the way connections go both directions on the actual panel in a mesh grid. This is verses the alternative which is wiring in a series. Compared to other panels that could be affected majorly in the energy production department if a weather incident occurs, this tenK RAIS PV system will just keep chugging along. If it ever does encounter weather damage the module can be replaced and the new module will freely be mixed with the other modules.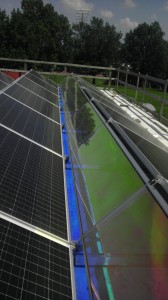 Maximum power point tracking wired parallel can accept reflections. You can see in our Chameleon House roof picture that the multi colored window like apparatus reflects light and increases light energy consumption by a lot. It reflects because its coated by 3m film that will only allow rays that can be used to be reflected. The rest gets passed through the glass to prevent heat build up. Efficiency jumps to 160 percent of the rated output with this panel and coated glass combo.
Safety is kept in mind with this system also. The tenK RAIS PV system only works when attached to a complete circuit. An advantage is it does not work during installation and firefighters can get this thing powered down with a kill switch so to say.
This company has headquarters in Minnesota and they have had great customer service with a passion for making solar project dreams come true with as low as cost as possible. Don't be afraid of their unbelievable deals they have. It's just this company has the passion behind them to make as much solar panel systems as possible and to help businesses and customers latch into the Solar Movement! Please check out their website and get inspired on top of the inspiration you may experience following our Chameleon House Journey!
Blog by Julie Glenn