Normal
0
false
false
false
EN-US
JA
X-NONE
/* Style Definitions */
table.MsoNormalTable
{mso-style-name:"Table Normal";
mso-tstyle-rowband-size:0;
mso-tstyle-colband-size:0;
mso-style-noshow:yes;
mso-style-priority:99;
mso-style-parent:"";
mso-padding-alt:0in 5.4pt 0in 5.4pt;
mso-para-margin-top:0in;
mso-para-margin-right:0in;
mso-para-margin-bottom:10.0pt;
mso-para-margin-left:0in;
line-height:115%;
mso-pagination:widow-orphan;
font-size:11.0pt;
font-family:Calibri;
mso-ascii-font-family:Calibri;
mso-ascii-theme-font:minor-latin;
mso-hansi-font-family:Calibri;
mso-hansi-theme-font:minor-latin;}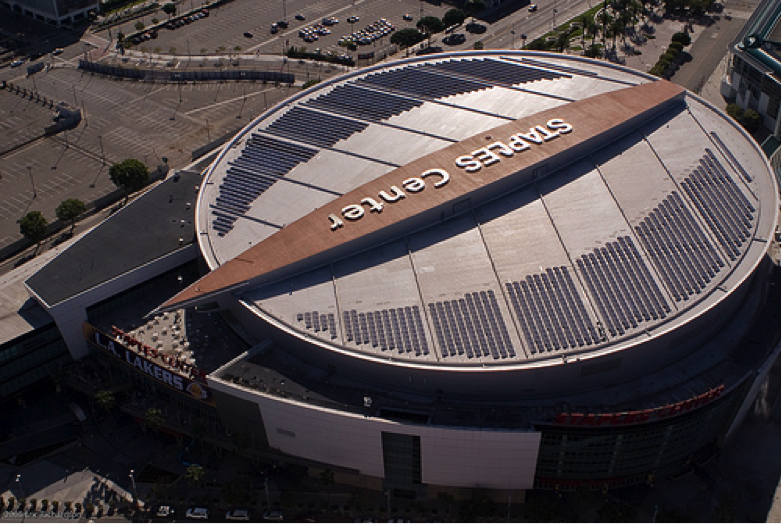 While much
of the hype leading up to this NBA season may be swirling around the two teams
in LA, the arena that they share has quietly become a beacon for sustainable
energy. The Staples Center in Los
Angeles, CA, which opened in 1999, is the only arena in the world to house four
professional sports franchises: the Clippers and Lakers of the NBA, the Sparks
of the WNBA and the Kings of the NHL.
With such great interest from so many different groups of fans, the
Staples Center has taken on responsibility to become a leader in the renewable
energy movement. In 2008 over 1,700
solar panels were installed on the roof of the arena and will provide clean
energy for up to 25 years. It is
estimated that these solar panels will eliminate up to 10,000 tons of CO2
emissions over their lifespan. Along
with the solar panels the Staples Center is taking other steps to become
"greener" such as diverting recyclable from the waste of the arena and
installing water-free urinals. So while
most of the cheering this NBA season will over the Chris Paul to Blake Griffin
ally-ops or Dwight Howard's Superman-like dunking ability, the Staples Center
and those that engineered it deserve a hand for their environmental
awareness.
Normal
0
false
false
false
EN-US
JA
X-NONE
/* Style Definitions */
table.MsoNormalTable
{mso-style-name:"Table Normal";
mso-tstyle-rowband-size:0;
mso-tstyle-colband-size:0;
mso-style-noshow:yes;
mso-style-priority:99;
mso-style-parent:"";
mso-padding-alt:0in 5.4pt 0in 5.4pt;
mso-para-margin-top:0in;
mso-para-margin-right:0in;
mso-para-margin-bottom:10.0pt;
mso-para-margin-left:0in;
line-height:115%;
mso-pagination:widow-orphan;
font-size:11.0pt;
font-family:Calibri;
mso-ascii-font-family:Calibri;
mso-ascii-theme-font:minor-latin;
mso-hansi-font-family:Calibri;
mso-hansi-theme-font:minor-latin;}
By: Alex
Schmidt